Audio
"Samara" - National Symphony Orchestra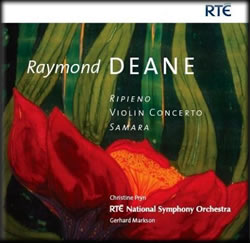 The samara is the winged seed of certain trees, disseminated by the wind. In the context of this piece, it refers specifically to certain musical figures evoking the seed's flight, and more generally to the transmission and transformation of generative musical ideas through history, through my own output (there are references to a number of earlier works), and through the piece itself.
My only starting-points were the intention to foreground major and minor thirds (exploring both the consonant and dissonant possibilities of their combination), and the certainty that a fleeting musical idea would ultimately be transformed into an explosion of fanfares. Other musical ideas accrued in the process of composition: the opening linear music which recurs like a refrain, a repeated chord in the brass, repetitive drum rhythms derived from Arabic music, and an extrovert melody employing all twelve notes of the scale. Finally, all seeds dispersed, only the wind remains.
Samara was begun in Dublin on 10 April 2005 and completed at the Tyrone Guthrie Centre, Annaghmakerrig, on 22 July 2005. It is dedicated to Gerhard Markson and the members of the National Symphony Orchestra of Ireland.